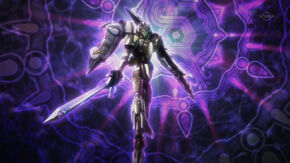 Aquarion Spada (アクエリオンスパーダ) Akuerion Supādais the combination result of the Vectors where Vector Y forms the head. It most resembles Aquarion Mars from the original Genesis of Aquarion, while also incorporating elements from Aquarion Luna. Spada is armed with a sword that resembles a fencing épée and uses a part of Vector Y as a makeshift shield. Both shield and sword can be converted into a bow and an arrow respectively for a special ranged attack. Shrade Elan is shown to be its primary pilot, relying on his musical training to push Aquarion Spada to its limits. Spada is the least used of the three combinations due to the strenuous focus and massive amounts of energy needed to use a blade in primarily gun fights.
Attacks
Community content is available under
CC-BY-SA
unless otherwise noted.