Synopsis
Toma dispatches a new Cherubim able to dodge all of Aquarion's attacks until Apollo manages to bring forth Solar Aquarion's special attack that pursues the enemy - Cherubim Luna - wherever it runs.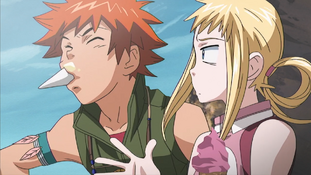 Quotes
Trivia
The Elements used rock-paper-scissors to determine their partners.
Jun hadn't ever held hands with a girl until this episode, where he had to hold Rena's hand.
Apollo has an impressive aura, but he is unable to control his Element abilities.
The Elements abilities are a form of ESP.
Fairy-like creatures live at Atlandia alongside the Shadow Angels.
This is the first time that a Cherubim Soldier has ever been seen to "laugh".