Cherubim Soldiers (ケルビム兵 Kerubimu Hei) are a recurring enemy in Genesis of Aquarion. They come in different forms as the story progresses.
Abilities
All Cherubim Soldiers seem to have a few abilities that they all can preform.
They can shoot disk-shaped beams from their long, blade-like fingers.
They can fire a ray beam of light from their head.
They have incredible speed and agility.
There are many different types that have differing special abilities.
Note: Unpiloted Cherubims with a blue orb at their center are noticeably stronger than the Cherubim Soldiers with a green orb at their center.
Cherubim Soldier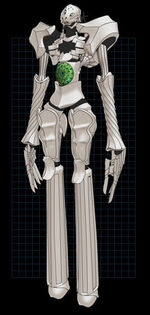 The most common Cherubim. They have long arms with long, blade-like fingers that they can shoot disk-shaped beams from. From the gem in the center of their forehead, they can fire a beam blast, and they all can move incredibly fast. In their center, they have a greenish-teal orb that is presumably their heart.
Cherubim Blumenblatt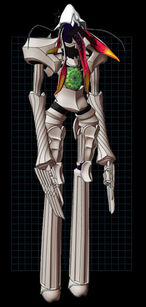 A Cherubim with a flower-like head. It was originally a regular Cherubim Soldier until Apollo killed it and Toma possessed it. It has the same abilities as a regular Cherubim, but is seven times stronger.
Trivia
"Blumenblatt" means "flower" in German.
Cherubim Luna
Cherubim Luna is a Cherubim that's imbued with the power of the moon that makes it "appear near yet unreachable". It attacks with a dark-colored shock wave
Trivia
It is the only Cherubim Soldier seen "laughing".
Cherubim Graeve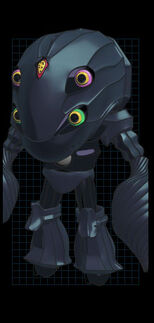 Cherubim Graeve is a different variant of Cherubim Soldiers. Instead of two eyes, it has four, and it is smaller with a drill-like structure on each "hand". It has an extremely hard body.
Cherubim Iskuron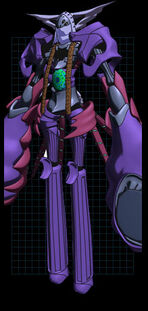 Cherubim Iskuron is piloted by Moroha. It has red gems on its "hands" that it uses to attack. It can separate into two bodies, which, when side by side, can create a powerful beam blast.
Cherubim Sur le Kubera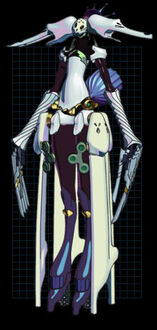 A very beautiful Cherubim in appearance, with a two-seated cockpit. Swords can be pulled out from its waist by its skirt, one on each side. It has incredible speed and destructive power.
Trivia
Cherubim Verizeva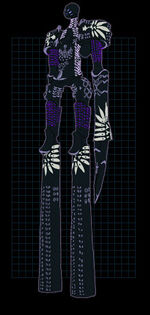 A powerful black-colored Cherubim piloted by Toma. It is armed with a pair of rapiers and can shoot lasers from its palms. It is the fastest Cherubim Soldier.